Scrubby-Q™ | Barbeque Steamer Brush
$39.99
$49.99
You Save 20% (

$10.00

)
Steam The Oily Barbeque Mess Away In Seconds!
—introducing Scrubby-Q™
 Instantly removes chemical stains and residue.
Smart design feature with easy to grip handle.
Durable stainless steel and dishwasher-safe.
Wash

 

off your oily grill

 

effortlessly

 

with our

 

Scrubby-Q™

 

Barbeque Steamer Brush.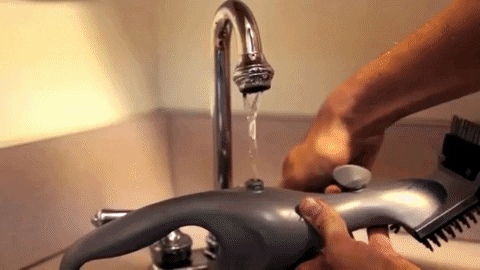 It naturally cleans with steam and no harsh chemicals used. You can easily remove cooked food and waste from the grill. You just hang the brush between the cleaners on the practical hook. 

You can now

enjoy grilling barbeque without having a hard time cleaning the oily greasy mess after.

This barbeque brush is dishwasher safe and made of durable stainless steel. It will never damage the porcelain, cast iron, or steel lattice! When you are finished cleaning, just throw it into the dishwasher. 

Cook your favorite barbeque dishes with no more worries and say goodbye to your time wasted on scrubbing off the grill. Scrubby-Q™ Barbeque Steamer Brush will let you clean with ease and save your precious time!
WHAT MAKES

SCRUBBY-Q™THE ULTIMATE SOLUTION

FOR YOU?
Power Cleaner. Magically removes stubborn food baked on the food. No more black char residue or chemicals on the grill.
Ergonomic-Design. Easy to grip handle and protects hands from high-temperature damage. Just preheat the grill, and clean it with the brush grill cleaner. 
Smart Bristles. The specially developed stainless steel bristles can be cleaned between the grill and the surface.
Specifications
Material: ABS + Stainless Steel
Weight: 400g
Package Includes
Make weekend barbeque days even sweeter with the best grill cleaner partner! 

Grab yours today!
ONLY AVAILABLE ONLINE!
See our FAQs for more details  
FREQUENTLY ASKED QUESTIONS ABOUT SCRUBBY-Q™
1. How does the water turn to steam if there's no battery to heat it? You need to turn your grill on and let it heat up. The hot grill surface will turn the water into steam. No need for an electric heater. Cleans away all debris on the grate.
2. Does this only work on a hot grill? It works on hot and cold, but it works well with hot. The steam generated comes from the heat of the grill.
3. What material are the brush bristles made of? They are made of Stainless steel and they are extremely durable. 
4. Does my purchase come with a warranty? Yes! If your Scrubby-Q™ Barbeque Steamer Brush becomes defective within 1 year of normal usage, we will gladly issue a replacement—just pay to ship. *T&C Applies
WE GOT YOU COVERED!
Your purchase it covered by our 30 days money-back guarantee & 1-year premium warranty.
SHIPPING & RETURNS
1. How long does shipping take? Orders take 1 to 3 business days to process and ship.
2. When can I expect my package? Notice: It normally takes 1-2 weeks for your package to arrive, depending on your location; however, there may be some delay in receiving your package depending on the current restrictions placed in your location, but rest assured we are operational and our team is doing our very best to process and deliver our products as soon as possible.
3. Where do you ship? We currently ship Worldwide.
4. Can I return something if I don't like it? Yes. You must return your product within 30 days of the product being received. Any returned product(s) must be returned in all of their original packaging, and in like-new condition.
Wait for your order with peace of mind
We want to make sure that our customers feel secured and protected whenever they want to order from us. It is imperative for us to provide a smooth, hassle-free transaction so that you don't have to worry about not getting the best out of your order.
Insured Worldwide Shipping: Every order includes real-time tracking details and insurance coverage in the unlikely event that a package gets lost or stolen in transit.
Money-Back Guarantee: We will gladly issue a replacement or refund if your items arrive damaged or malfunction within 30 days of normal usage. Customer satisfaction always comes first.
Safe & Secure Checkouts: 100% protected personal and financial information. We use state-of-the-art SSL Secure encryption to keep everything confidential and locked up.
At Thumble, you are assured that we do not take service lightly. We set the bar high in keeping our customers' order safe and intact.
Every order is treated like a delicate gem because YOU matter to us more.
And oh, we love to hear any feedback from you. Feel free to chat with us at support@thumble.store !
free
shipping
Lorem Ipsum has been the industry's standard dummy text ever since the 1500s
Moneyback
Guarantee
Lorem Ipsum has been the industry's standard dummy text ever since the 1500s
1 year
warranty
Lorem Ipsum has been the industry's standard dummy text ever since the 1500s
Easy Order
Tracking
Lorem Ipsum has been the industry's standard dummy text ever since the 1500s